Typography, orientations and guidance systems, graphics, corporate design and digital media are the themes of the travelling exhibition "Dimension of Surface — Communication design in Germany (Dimension der Fläche – Kommunikationsdesign in Deutschland)", conceived by the Goethe-Institute in cooperation with the German Design Council .
We were honored to be one of the five German companies to represent the core area digital media design (although we felt slightly under-challenged by the two-dimensionality of the topic).
Read more about the exhibition here.
Tour Dates
in case you've missed Kyoto, you can still see it in Bishkek!
2008
September/October: Beijing, Turin
November: Kyoto
October–December: Triest
2009
January: Hong-Kong
January–August: Almaty, Bishkek and other cities in this region (Eastern Europe, Central Asia)
February/March: Melbourne, Sydney
April: Wellington
May: Singapore
June/July: Jakarta
August/September: Manila
September/October: Kiev
October/November: Bangkok
November/December: Ankara
MESO exhibits:
we had the pleasure to participate with documentations of the following MESO projects (and if you can't make it to Bishkek, you can still see the portfolio here on our website):
A hands-on public sound studio for making remixes of the Mannheim Song.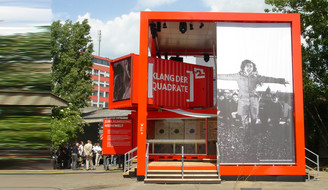 Ben van Berkel and the Theatre of Immanence – ON THINGS OF THINGS ON projection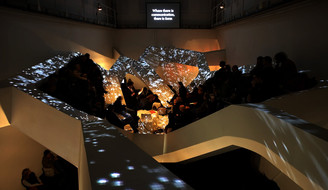 Interactive World Model showing climate simulations and scenarios.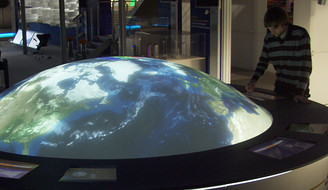 Touchfree Multitouch Media Table and Light Installation for an Exhibition on Energy in Architecture.