The new media guide leads the visitor as he as he learns about Goethe's life, his literature work and his
paths of knowledge, in the permanent exhibition "Lebensfluten – Tatensturm" ("Flood of Life – Storm of Deeds") of the Goethe National Museum in Weimar.
On an Apple iPod, a smartphone sized digital media player, the visitor can easily listen to original texts and learn about literature in an easy and entertaining way during his visit. It extends the physical exhibition by offering a huge "digital space" in addition to the spaceful yet limited 800 m² of the exhibition.

Der neue Medienguide begleitet den Besucher durch das gesamte Goethe-Nationalmuseum. In der Ausstellung Lebensfluten – Tatensturm bietet er die Möglichkeit zur Vertiefung in Goethes Biografie, sein literarisches Schaffen und seine Erkenntniswege. Im Lese- und Hörkabinett wird der Besucher eingeladen, in einer Goethe-Bibliothek zu lesen, Originaltexten zu lauschen oder ganz spielerisch mit Literatur umzugehen.

Die Presse schreibt über den Mediaguide:
"Der Geheimrat ist im Zeitalter des Smartphones angekommen. Besucher des Goethe-Nationalmuseums können mit einem Medienguide durch die neue Dauerausstellung wandern und klicken, drehen, schieben, wie mit dem Handy. Das Gerät dient der Orientierung und Information, es erlaubt zudem, Texte von und über Goethe abzurufen. Es ist eine Art erweiterter Speicher einer Präsentation, die auf gerade einmal 800 Quadratmetern ein Maximum an Exponaten zeigen will, ohne überladen zu wirken und in einem Wald von Schildern zu versinken." ZEIT Online
More information on the exihibition:
Media Installation at the permanent exhibition in the Goethe Nationalmuseum Weimar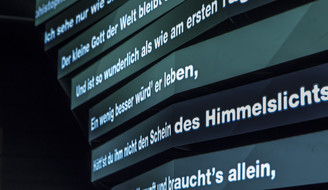 For the new permanent exhibition "Lebensfluten – Tatensturm" ("Flood of Life – Storm of Deeds") in the Goethe National Museum in Weimar, Germany, MESO developed a media installation and a media guide.